Statues
One of the best things that fans, and tourist like to visit are the statues that commemorate the great players that have played for the Giants. You can find these statues surrounding the park.
Willie Mays statue, one of the most well known baseball players in the sport, is located at 24 Willie Mays Plaza which is the main entrance into the stadium.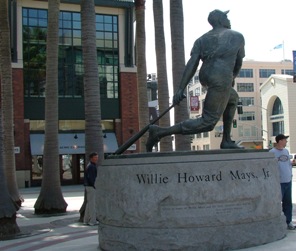 The Willie McCovey Statue, is located down the board walk, along the water outside of the stadium northeast
The Juan Marichal Statue, is the most recognizable statue because he had the unique high leg kick in his wind up. You can find this statue just outside the board walk.
Across from Juan Marichal's statue is the Gay Lordperry Statue, located at King, and Second St.